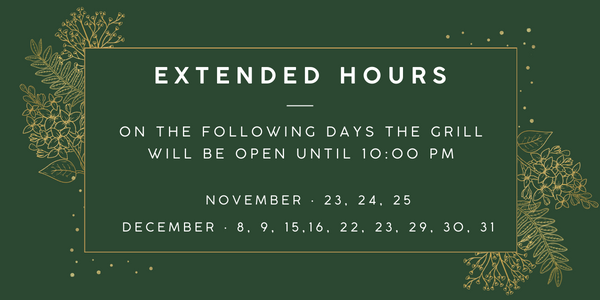 The Glen Club Grill
Located in Glenview on the North Shore, The Grill Room welcomes members and non-members alike to dine in comfort at our casual but elegant restaurant. Our culinary team appeases with an American cuisine uniquely mixed with innovative and traditional plates. With views second to none, The Grill Room patio is the perfect spot to enjoy the perfect meal.
The Glen Club Grill warmly invites you and your family to experience fine American fare in a comfortable atmosphere. At The Grill, we help you create memories that will last long after leaving the dining table.
A North Shore Neighborhood Restaurant
Located in Glenview on the North Shore, The Grill is a welcoming extension of The Glen Club. Members and non-members alike can dine in comfort and elegance in our casual but elegant restaurant. You're also invited to experience summer splendor on the terrace with a scenic view of the 18th hole of the world-class golf course.
American Cuisine
The Glen Club is family friendly and has a fun childrens menu. Games, crayons and the children's menu activities will keep the little ones entertained and allow the adults to enjoy a great meal and fun family time.
The Adult Beverages
With an extensive list of fine wines, liquors, and microbrews, as well as monthly specials, we provide the perfect compliment to your meal.
Casual Dining at its Best
Whether you are stepping into The Grill at The Glen Club from our award winning golf course, or from anywhere on the North Shore, we promise a delightful meal and a memorable experience.
Reservations are recommended, call (847) 832-6403. Click here to learn more about The Glen Club Grill.